Climate Change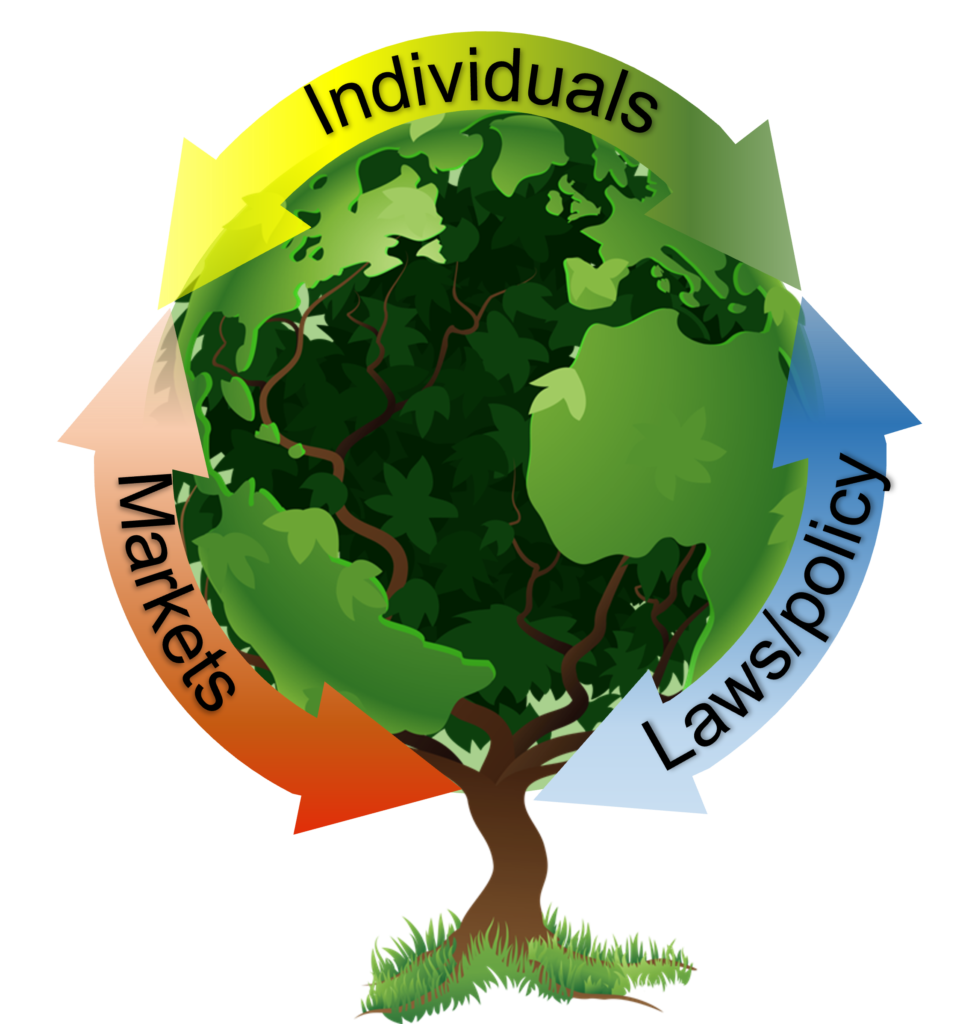 Individual Actions are Needed to Stabilize our Climate, Now More than Ever
The excess of greenhouse gases accumulating in the atmosphere is destabilizing global climate systems to the perilous point of "Code Red for Humanity" in the words of the United Nations Secretary General.  The scale of the crisis can be overwhelming, sometimes leaving people to feel that individual actions cannot influence the necessary changes to achieve net-zero emissions by 2040.  But individual actions are critically important because they drive the engines of consumption (demand-side), business (supply-side) and policy.  Additionally, reducing fossil fuel consumption can save individuals money and improve health.  Our individual actions can also influence others in our community and play an important role in our mental health by quelling climate anxiety.
"To change everything, we need everyone."
Croton100's mission is to achieve a "100% emissions-free future" in our communities.  The "100" in our name refers to 100% of emissions, 100% of the people, 100% of businesses and public facilities.  This mission mirrors the call to action by global scientists to reinforce that individual action is inextricably woven into our mission.  Reaching 100% of the residents will necessarily mean starting with early adopters who model the possible and the benefits of decarbonizing our lives.  Some people will take varying amounts of time to adopt low-hanging fruit changes and harder-to-reach solutions.  Croton100 provides resources to help guide individuals in short-term, medium-term, and long-term planning to reduce their consumption of fossil fuels and features decarbonizing residents who serve as role models on our website.
"Never doubt that a small group of thoughtful, committed citizens can change the world; indeed, it's the only thing that ever has."
– Margaret Mead
Unfortunately, there are some people who embrace the notion that your carbon footprint is a construct created by corporations in order to shift the burden of responsibility for climate change to individuals.  Notions that decarbonizing our lives is a burden and that it is the primary responsibility of corporations to drive this change is misplaced for several reasons.  First, this binary framework does not recognize that there is an interdependent relationship between demand-side consumption by individuals and supply-side production by corporations.  Small individual lifestyle changes that have sometimes been espoused by traditional fossil fuel industries like carpooling, reducing litter, recycling plastics and composting have small impact on GHG emissions.  And yet, these minor low-hanging fruit lifestyle changes should not be disregarded because, at the least, they take us in the right direction, and they are part of the consciousness raising that is needed to embrace changes in consumption of the bigger contributions to global warming.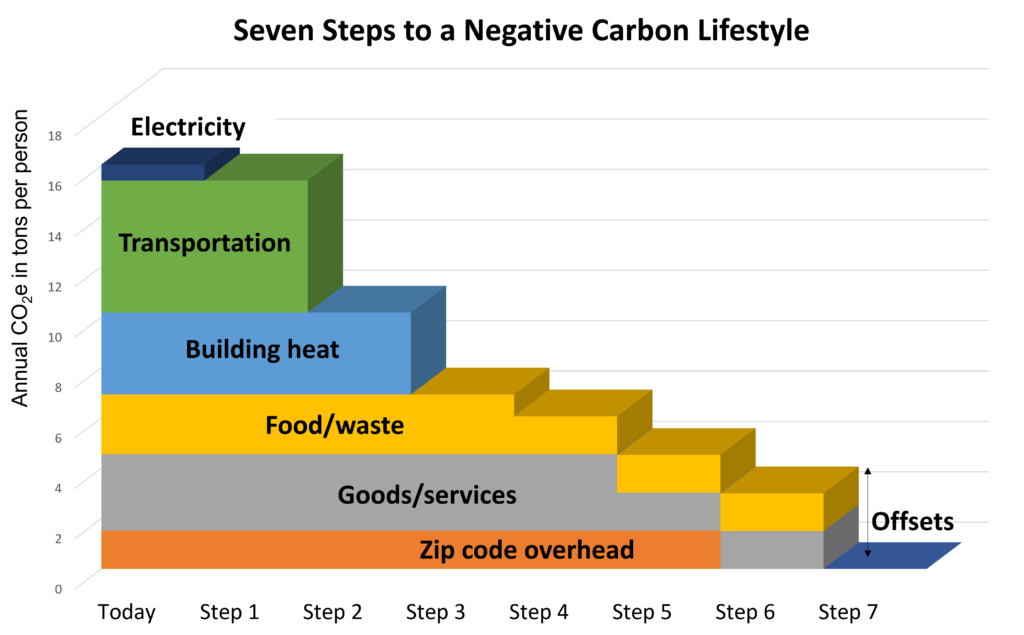 Croton100 endorses low-hanging-fruit consciousness-raising actions to help people enter the on-ramp toward adopting big-hitter changes like renewable-sourced electricity, electric vehicles, and net-zero building heating solutions.  Direct and indirect individual consumption of all fossil fuel products must be drastically reduced by everyone if we are to reach net-zero emissions.  Guiding action commensurate with the relative impact of the low-hanging fruit emitters, compared to big carbon hitters is at the core of Croton100's carbon literacy campaigns.  Simply put, developing carbon literacy can help individuals to take actions that have greater impact.
Yes, we need corporations, Governments at all levels and utilities to do more, but these are collections of individuals, and they are influenced by individuals. So, individual actions can also help to shape policies and behaviors by corporations and other large systems.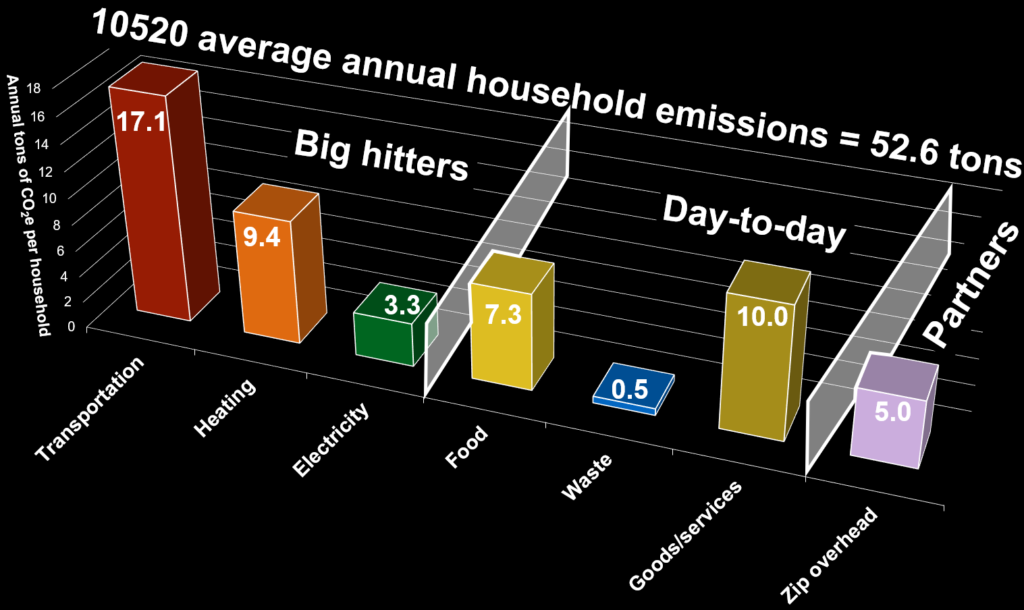 Individual decarbonizing actions also improve individual health and save money.  Those who resist decarbonizing their own lives based on a belief that they have no responsibility to do so, are overlooking the harm that direct and indirect consumption of fossil fuel products have on their own health.  Moreover, repudiating individual decarbonizing action on the mistaken belief that there is no individual benefit to reducing consumption of fossil fuel products overlooks the high financial costs of fossil fuels.  Individuals can save money by reducing consumption of carbon emission intensive meat in favor of plant-based diets, using renewable sourced energy to power electricity, and electrifying transportation and building heating systems.  Putting aside the burden/responsibility framework; individuals should act because they would benefit from decarbonizing their lives.  In other words, in addition to a moral imperative, there is a profound health benefit and a financial incentive.
There are also actions that individuals can take to improve their mental health around their relationship with carbon-based fuels.  Rather than gravitating toward the doom and gloom causes and impacts of global warming, people can shift time and attention to solutions.  Replace doomscrolling — a negative form of screen addiction — which makes people angry, anxious, depressed, unproductive and less connected with others and ourselves, with "solutionscrolling."  There are uplifting podcasts that can help redirect thoughts toward constructive, more positive thinking patterns.  Here are a few suggestions:  On Being, Oprah's Masterclass, Pushkin Happiness Lab, Pushkin A Slight Change of Plans, and of course, the plethora of mindfulness focused podcasts, TED Talks and positive Youtube segments.  Individuals can also use social media to post about solutions and follow individuals and organizations that post about solutions, rather than spending time on negative messaging platforms.  For example, follow and like Croton100 on Instagram!
People can also bring individual actions directly into the marketplace.  There are role models in the Croton community who have built their livelihoods with low carbon emission and sustainability focused businesses.  To name a few:  The Blue Pig, The Organic Teaching Kitchen, Croton Energy Group, Plan It Wild, Utopus Insights and Croton Sailing School.  There are also other businesses operating in Croton that provide services to reduce fossil fuel consumption like home energy efficiency diagnostics and remediation and installation of electric pumps for building and water heating.  There are residents in Croton who are entrepreneurs and employed in a plethora of sustainable professions.  So, the opportunities for individual action in the marketplace are not just on the consumption side, they also include driving the supply-side of the green economy.
"Alone we are a drop of water, together we are a mighty river."
– Ryunosuke Akutagawa
Individual action to influence others is also part of climate stability solutions.  In addition to Croton100, which is a grassroots organization, the Climate Reality Project provides an outstanding model for individual action in the global community.  The Climate Reality Project (CRP) trains individuals to become leaders who will engage in education and advocacy to influence policymakers and other individuals.  CRP encourages its 42,000 trained Climate Reality Leaders (CRLs) to perform "Acts of Leadership" such as giving presentations about the causes, impacts and solutions to the climate crisis; writing blogs and news articles; communicating about the climate crisis and solutions with influencers such as elected officials, policy makers, or business leaders; engaging in public outreach by things like petition gathering, participating in partnerships or coalitions, recruiting others to engage in acts of climate leadership; writing letters to the editor or authoring op-ed pieces; making a media appearance by being interviewed for a news article, television broadcast, podcast, webinar or radio show; meeting and assisting other climate stability advocates; organizing or participating in climate education and advocacy events; creating education and advocacy resources; supporting and mentoring others who take action; and networking with other CRLs to stitch our individual actions together for greater impact.  There is also a cadre of elected officials and volunteers throughout the Croton community, at the State and Federal level who are leading decarbonizing initiatives.  Taking these actions helps to advance the cause and improves emotional well-being by participating in both the local and global community that delivers impact through collective individual actions.
"Think globally, act locally ."
– Patrick Geddes
Taking individual action to reduce the risks of perilous global warming is necessary and will benefit those who act in many aspects of their lives.  Join Croton100 in its education and advocacy activities.
"Be the change you want to see in the world."
– Mahatma Gandhi
*Patty L. Buchanan is a Board Member of Croton100 and CURE100, a Climate Reality Project Leader, lives in a net zero-emissions home, and drives an electric vehicle.